Since February 2022, all CTU users have access to selected e-books published by Taylor & Francis in 2019-2021 (more than 3 000 titles).

A collection of selected e-books covers:
Computer Science
Engineering & Technology
Physical Sciences
The e-books are accessible both in the whole CTU network (library, faculties) or via remote access from any place. Most of the books you can easily download in pdf format without any DRM restrictions.
The selected collection of e-books is available until 30th November 2022. Later on, some of the e-books will be purchased for perpetual access. The selection will be made on the basis of statistics and users' recommendations. This model is called Evidence-Based Acquisition (EBA). EBA allows us to "try" e-books before we purchase them and add them to the permanent collection.
In Taylor & Francis database you can search in the entire production of this publishing house. If you want to view only the titles accessible by CTU, it is possible to select only particular subjects: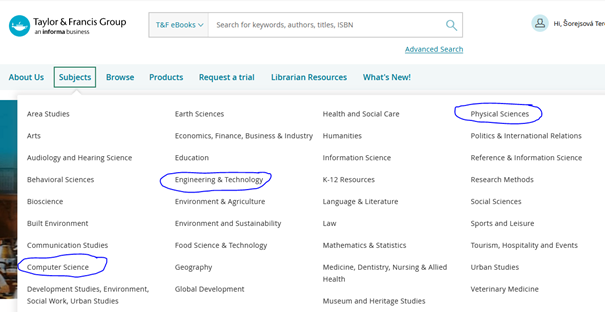 The search results can be filtered furthermore by the CTU licensed content or by publication date:
In case you need more information or you want to recommend us an e-book for perpetual access, contact This email address is being protected from spambots. You need JavaScript enabled to view it..